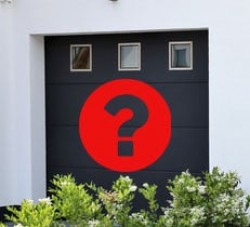 3 Questions to Ask When Buying a New Garage Door
Choosing a garage door is a big investment, and it's a decision that shouldn't be made lightly. You're likely not going to be replacing it again for many years, and there are a few reasons why you may be wanting to upgrade your garage door or be thinking of replacing it.
Increasing your home's curb appeal isn't just important when placing your home on the market, as it may be making your home look quite tired from the outside.
To ensure you're selecting the right garage door for you, here are the top questions to be asking throughout the buying process:
What garage door material should I choose?
This question can only be answered by you, and whilst you may think that you're only going to be using the garage for storage for the foreseeable future, will this change in 5-10 years? You'll also need to consider the local weather conditions, and if you're from the North of England, you'll need a garage door material that can withstand lots of wind and rain.
Wood – real wood looks great when it's brand new, but unless you're willing to spend a lot of time maintaining the garage door, this won't last long. They will last a very long time, but only if you're willing to keep them looking great with regular upkeep. They're also not very durable where there's usually lots of rain.
Composite – this is a popular alternative to wooden garage doors if you're set on the sought after wood effect. They offer the strength of steel and are more resistant to rot and splitting.
Steel – this is usually the most popular choice for a garage door, especially in wetter climates. They're usually the cheaper option, very durable and low maintenance. However, if you're looking to use your garage for anything more than storage, you may want to consider a different option as it offers very poor insulation.
GRP Fibreglass – this is another strong option for adverse weather conditions, and as fibreglass doors are usually made in moulds, it allows for more customisation with the same low maintenance as steel. Fibreglass is usually the chosen option for homes by the coast, as it won't corrode or change shape with temperature changes. However, it's worth noting that if the garage door gets scratched or marked, it can be very difficult to repair.
How to make your garage door more secure?
As the darker nights approach, winter becomes a more popular time for burglaries. Many people would like to keep their belongings safe, and high-value items such as the family bicycles and tools become a common target in garages. However, adding extra security to a garage door is sometimes all that is needed to ensure you keep your home safe.
Extra locks – simply adding some extra locks to a garage door, can not only provide you peace of mind, but it can also ensure that the garage door cannot be forced open from the outside. For example, euro-lock bars provide a lot of extra strength for side-hinged garage doors.
Those added extras – it might seem quite trivial but motion security lights can put a lot of thieves off. Driveways tend to be quite dark and often bushes and cars can provide a lot of cover for anyone trying to break into a garage, so lighting this area up often keeps thieves away.
If you're pondering which type of garage door is the most secure, you may be interested in a previous article we've put together, you can find it here.
How can I protect my garage door?
We've already talked about security, but it's often the upkeep and maintenance that falls by the wayside. Even if you select a low-maintenance garage door, such as a steel or fibreglass option, it's important to ensure that the door track remains clean and free from dirt, grease to ensure smooth operation.
You'll also need to make sure that you keep all mechanisms well-lubricated. If you're starting to experience some squeaking when opening and closing your garage door, simply spray the mechanisms with some WD-40.
Remember, if you opt for a wooden garage door, its best practice to clean it regularly and re-stain the wood every year or so.
Still not sure about which garage door is the best option for you? We've put together an article that compares sectional garage doors to roller garage doors, which you can read here.