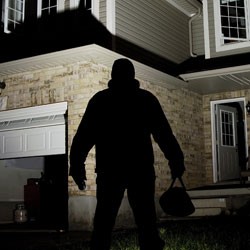 What Type Of Garage Door Is The Most Secure?
If you're considering purchasing a new garage door, the first consideration at the forefront of your mind might very well be how it looks and the colour. Aesthetics is important for increasing your home's curb appeal, however, this should be a secondary consideration once you have selected the most suitable garage door in terms of security.
According to the ONS, a burglary is committed every 40 seconds in the UK. A scary statistic that should place garage door security at the top of your priority list. Preparing for the worst doesn't always work, but you can at least minimise the risk by selecting the most secure garage door to protect your family's precious belongings.
What type of door is the most secure?
Many aspects can play into the security of your garage door, even deterrents such as motion-detecting lights and CCTV. However, the best way to prevent thieves from entering your garage is by installing a high-quality garage door. A key consideration is a material the garage door is made from, for example, GRP Fibreglass and wooden garage door security is superior to standard steel.
Side-hinged garage doors are quite popular in terms of aesthetics and are quite sturdy. Also, they are the easiest to increase security on your garage with extra locks due to their opening movements.
The unique benefit of this type of garage door is that you do not have to have the whole garage door open revealing all your belongings to potential thieves.
Historically, up and over garage doors were quite weak and offered lower security. Recent years they have improved as advancements in materials have progressed. Cheaper steel garage doors offer very little in security, but opting for GRP Fibreglass material will dramatically increase the garage security.
Roller garage doors are more compact and neat in comparison to other options available making it a desirable choice. The downside of this type of garage door is that they require a significant amount of headroom to accommodate the roll and can take longer to open and close in emergencies.
This leaves the question 'are roller garage doors secure?'
In terms of security, roller garage doors are a strong option, with little opportunity to penetrate the edges as they can be installed without a frame.
Sectional garage doors are the most sturdy and reliable in terms of security. The door is split into sections and the door is folded back into the roof of a garage along the frame. Offering better security due to no obvious points of attack, a sectional garage door is a strong option for homes looking for a secure garage door solution. Sectional garage doors are also ideal for installing an electronic operating system.
What is the best option for you?
This greatly depends on what the garage is being used for. If you're storing high-value items such as a home gym or expensive tools, you may want to consider opting for a sectional or roller garage door.
However, if you're simply storing the lawnmower and standard bicycles, an up and over or side-hinged door will provide enough security for your belongings, which can easily be upgraded with extra lock and security devices.
There are pros and cons to all types of garage doors, but it entirely depends on the intended use of the garage. Still unsure about which garage door to select? Here are 5 questions to ask yourself when looking to replace a garage door.
For more information, or to speak to a member of our expert team, please get in touch.